COVID 19 pandemic created a major negative impact on the lives of people all around the world. This includes people in Cameroon as well. Out of them, girls had to experience the most negative consequences. That's why it is important to come up with special initiatives to empower girls and contribute towards their betterment. Rising Hope Foundation for Change, First Annual Girls Leadership Summit which is in line with the UN international day of the girl child, is being organized to ensure it. If you are a girl in Cameroon, who wishes to empower yourself to ensure your betterment in the future, this is the ideal program available for you to take part in. It will be one of the biggest investments that can be done towards the future as well.
Objective of Girls Leadership Summit
Organizers of Girls Leadership Summit wanted to encourage girls to get entrepreneurial education and start their own businesses. These female business leaders will be able to contribute towards the betterment of the community in the long run. In a developing country such as Cameroon, there are numerous issues to be addressed. These female entrepreneurs will be able to discover the most innovative solutions. Then they will be able to contribute towards the future development and economic growth of the country.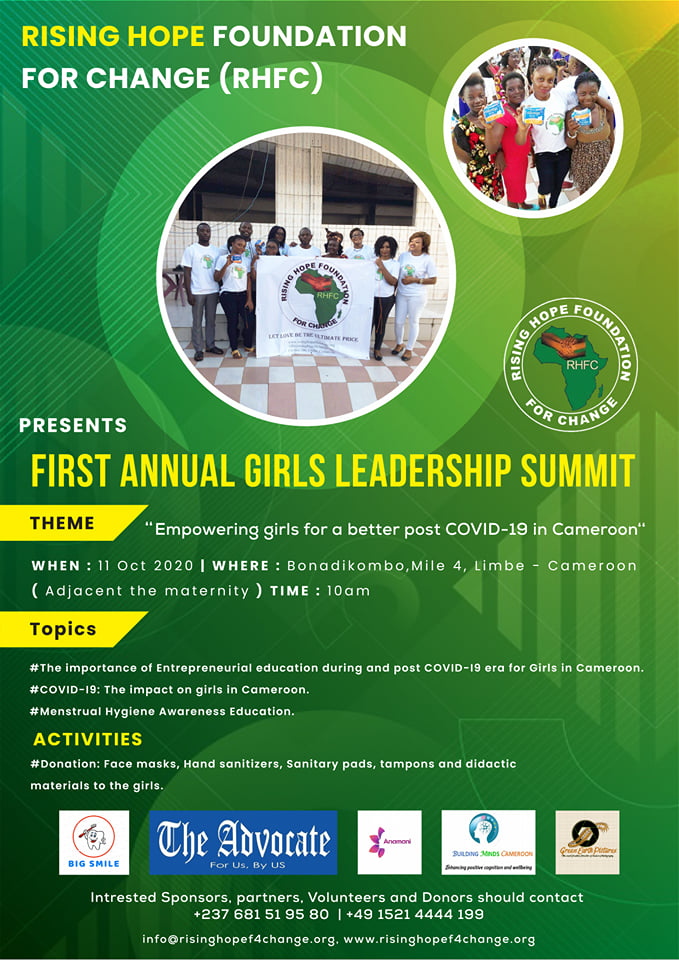 Girls who were already running successful business were impacted by COVID 19 crisis. With the girls' leadership summit aiming at the post COVID 19 era, these girls can find this as an excellent opportunity available to bounce back. The worldwide crisis created a variety of negative impacts on the society. However, it created some exciting opportunities as well. If you can get to know about those opportunities, you will be able to proceed to grab them. The workshop will tell you more about the opportunities created and you just need to proceed with exploring them.
The Girls Leadership Summit is not all about entrepreneurship. You can find it discussing many other useful and effective topics for example, you can get a better understanding on how the COVID 19 crisis created an impact on the lives of girls who are based in Cameroon. On the other hand, you can take part in sessions that discuss more about menstrual hygiene and awareness. This is an area where most girls lack knowledge in. Due to the same reason, we see them getting into numerous struggles. You will be able to overcome all those struggles by taking part in Girls Leadership Summit.
You can develop your leadership skills with ease by taking part in the leadership development sessions that will take place at Girls Leadership Summit. The lessons you learn at the event can contribute a lot towards your future life and your betterment.
Activities at Girls Leadership Summit
Girls Leadership Summit would never be a boring one as a number of activities are planned to be carried out.
Saving our planet is one of the main goals of Rising Hope Foundation For change. That is why tree planting will be one of the most prominent activities during the Girls leadership summit. Along with this activity, you will be able to contribute towards the betterment of the world that we live in.
There will be a donation taking place at Girls Leadership Summit. At this donation, hand sanitizers and face masks will be donated. These are some of the must haves in today's world as the COVID 19 pandemic is still spreading fast. Moreover, donations of tampons, sanitary pads and didactic materials to the girls will happen at the Girls Leadership Summit as well. Hence, underprivileged girls who are in need of them will be able to take part in the event and grab the opportunity. At the end of the event, there will be a photo session, which will help everyone to walk back home with a bunch of exciting memories collected.
Go ahead and join the event!
The Girls Leadership Summit is being organized by Rising Hope Foundation For Change and will be held on 11th of October, 2020 (also the International day of the girl child) at their Main Office hall Bonadikombo Mile 4, Limbe-Cameroon, which is located next to the maternity. The event will start at 10:00 am in the morning. If you are looking forward to grab this unique opportunity, you are encouraged to go ahead and take part in the event. You will never regret your decision.