Message from the President and Chief Executive Officer
Welcome to Rising Hope Foundation for Change (RHFC) website.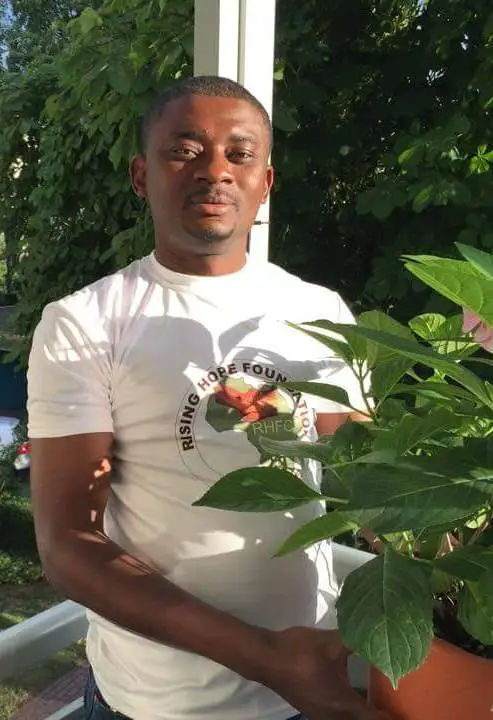 Thank you for committing yourselves to achieve the Rising Hope Foundation for Change (RHFC) (African dream). I hope you will take pride in working with us in these initiatives and with your effort we will bring tangible solutions. The greatest hope of every true African statesman is the emancipation of the African population from the eminent woes of poverty and suffering. RHFC is a young dynamic, networking and growing Not-for-profit organization which aims to regenerate the Cameroonian society. My desire and dedication is to be an agent of change.
We are Rising Hope Foundation for Change (RHFC) and our greatest goal is "Putting hope, happiness and smiles by providing quality education, engaging in sports, socio-cultural and environmental upliftment opportunities to improve the Welfare and Wellbeing of the least privileged in Cameroon and Africa in general' through member's commitment and funds we receive. I have found myself walking in the shoes of prospective least privileged Cameroonians who did not have money to take care of their basic needs. I know there are many young leaders in the continent who share with me similar stories. Through our mission and vision on our country Cameroon and mother continent.
Our purpose is to provide opportunities, education and environmental friendly activities to the least privileged youths and disadvantaged communities. We aim to give as many youths the opportunity and access to education and leadership. I know if we help create the leaders who embrace a high quality of education, it will be easy to fulfill the Cameroonian and African dream which is , to eradicate extreme poverty and restore the dignity to Cameroon and Africa in general. RHFC envisions in a new paradigms shift of relationship in action to bring about change we need. RHFC makes it priority to deal with the root cause of the evident of Africa darkness; the seed of ignorance.
RHFC marks an important transition from extreme poverty in Africa. I am totally committed to the delivering of services, equality across the continent; bring illumination of the continent by the sharing of knowledge and to fund the immediate process of educating the least privileged Cameroonian and Africa in general. I pledge the full commitment of our organization Rising Hope Foundation for Change (RHFC) management to the realization of the Cameroonian (African) dream. It is when we as the people of Cameroon, Africa and the larger world unite behind our cause, that we set ourselves apart and uniquely begin to unearth solutions. Rising Hope Foundation for Change (RHFC) is such a force united for that sole purpose to realize the Cameroonian/African dream. Our team is prepared to challenge the poverty in Africa, to persevere in the cause of liberating Cameroon, Africa and the rest of the World to deliver an ultimate triumph. It is imperative for us to take our part in the struggle for life and be part of history that Cameroon, Africa and the rest of the world is making today. If you share our dream, think of making a difference, to the lives of others.
If you are prepared to make a difference, to create leaders, to change lives, to go green and to nurture the dreams of Cameroonians (Africans), I believe you are at the right place. It is time for the renaissance of Cameroon (Africa). Welcome home.
Mbenja Clovert Anamani
M.Ed.(Educational Administration),MBA Student IAU,
President and Chief Executive Officer
Rising Hope Foundation for Change (RHFC),
Volunteer Mentor/Climate Leader (Climate Reality Project),
Co-founder African Green Movement.
contact: clovertmbenja@gmail.com