The main objective of this project is to raise awareness about menstruation and the menstrual cycles of school girls in Fako Division, South West Region of Cameroon.
RHFC want to ensure that.
MENSTRUAL HYGIENE AWARENESS PROJECT
At the age of 10, 11, 12 young girls go through a very serious stage of their lives, they turn from young girls into mature girls with more responsibilities according to their health and behaviour. "I'll say, 'OK, everyone stands up and yell the word blood!' or say, 'Half of the people in the world have their period!' " According to UNICEF, more than half the schools in the poorest countries lack private toilets. And unlike teenage girls in well-off countries, many in the developing world can't afford (or even find) tampons and pads. The menstrual hygiene process is different for every girl and woman. It is very specific because it relates to the organism of the person, with the health situation and mostly with the inner feelings and emotions. When this stage of life comes to a young girl she doesn't know what she has to do and what is she going to face up through all her life and that's why she should be well-educated on this topic, she should know her organism in order to know how to react when it happens. It is very important young girls from 7-9 years old should talk freely with their families on this topic, especially with their mothers and sisters. There are many girls that grow faster than others and they should be prepared and know how to react because the first time the menstruation comes they may be alone and they should know what to do. It will be very good if in each school nurses could be the people to turn to when this happens and they should explain the change of the organism and the management with the menstrual hygiene to young girls and they should provide consultation time for example once or twice a week when girls could go and speak freely on this topic and ask questions without being judged from their families, friends or the society in general. But today, in Fako Division, South West Region of Cameroon this is not the Case instead they stay away from school. When the menstruation comes it is considered that the girl is ready to get married, have children and start a family based on culture and tradition. With all these setbacks, they cannot go to school or stay in school. This project seeks to address these problems.
WORLD MENSTRUAL DAY CELEBRATION BY THE RISING HOPE FOUNDATION FOR CHANGE ON MAY 28th 2021.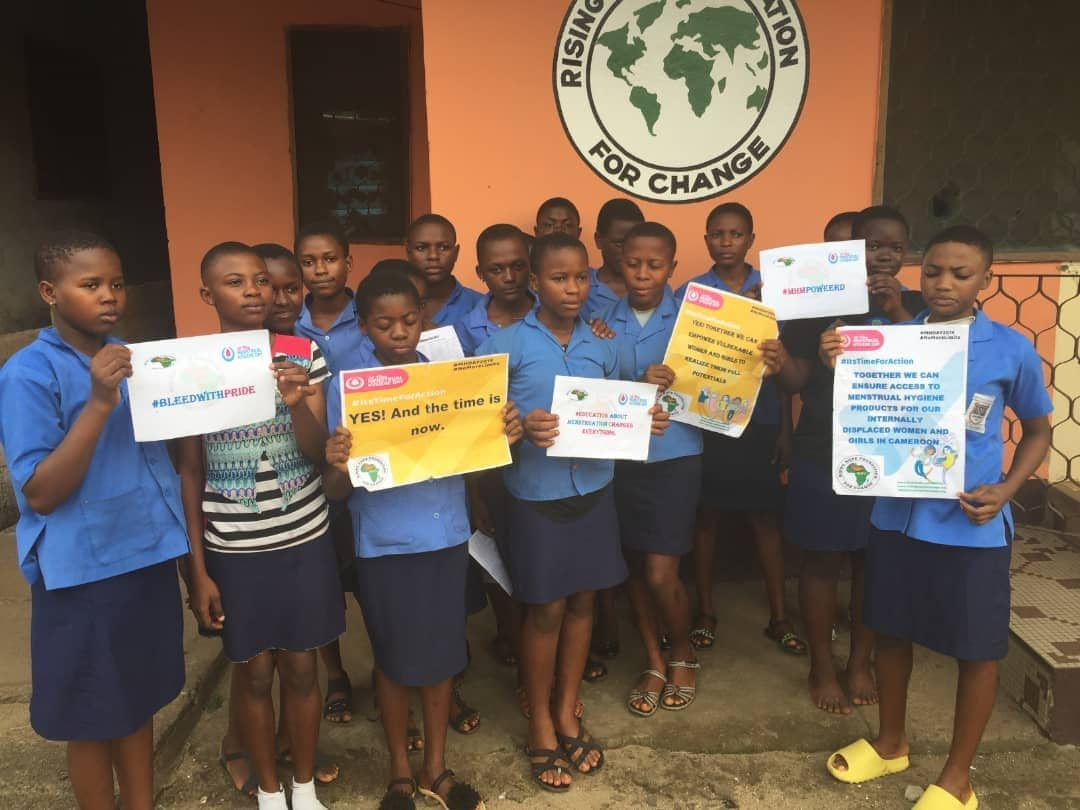 It was at the head office of the Rising Hope Foundation for Change building this 28th day of May 2021 at about 3pm that some internally displaced girls from Government High School (GHS) Bojongo-Limbe partook in this year's World Menstrual Hygiene Day celebration. All were seated and a word of prayer was given by Ma Doudou. The students were all introduced by Ma Doudou and there were 20 of them, from Forms 1 to 4.
The speakers of the day were : Genevieve Akem, Agbor Osang Queenta and Ashie Donestelle (nurses) who came from the Health Centre of Bonadikombo Mile 4- Limbe. Furthermore, Atemkeng Cynthia, Ebai Divina and Njoke Randy made up the beads trainers team.
The first speaker opened the talking by introducing the theme of this year which is Action and Investment in Menstrual Hygiene and Health. She equally talked on the menstrual cycle and what it is all about.
The second speaker on her part talked about hygiene and sanitation during and after menstrual flow. She equally laid emphasis on the kind of pads to be used by the girls which are very economical: the recycled sanitary towels.
The third speaker gave a highlighting summary of what the first 2 speakers had said and consequently engaged the girls in an exercise of questions and answers so as to determine the level of understanding of the girls. She then interviewed some of the girls one-on-one.
We had a break by 5 pm for about 10 minutes with snacks. By 5:10pm in the evening the second segment of the day started with the training on homemade beaded bracelets, and also on how to calculate their menstrual cycle. This was undertaken by Ebai Divina, Atemkeng Cynthia and Njoke Randy.
At the end of this training the girls expressed the wish to continue in this piece of art at some point in the future if necessary. They received some sanitary towels from Atemkeng Cynthia.
The day ended by 6 pm at which point Ma Doudou gave a closing remark thanking all participants and well-wishers who made the day a satisfactory one to be realized and all went out for family pictures.